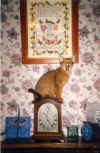 My new home is really something
to shout about!

Sorrel Aby surveying
her territory

Welfare
Fortunately there are not usually many Abys needing to be rescued by our Welfare Department, and there is usually a waiting list of good, carefully checked homes for them to go to. Our Welfare Officer is Harriet Patey
Harriet co-ordinates those Abyssinians that need help with people who are seeking to give homes to these unfortunate cats. If at all possible the breeder is contacted first. The kitten may have been sold in good faith to an excellent home, yet circumstances may change and sometimes it is just not possible for the human family to go on caring for the Abyssinian. When this occurs, our Welfare Officer should be contacted immediately, as the sooner these problems are resolved the better it is for the cat.

There are usually about a dozen Abys needing new homes every year, and many times this number of people offering homes to Welfare cases. However an emergency situation can easily mean that a whole group of Abyssinians suddenly needs help. If YOU have (or know of) an Abyssinian needing a new home, please contact Harriet NOW. If you can provide a good home for a needy Aby, or can offer help with transport or a donation, again please do contact Harriet by e-mail.
The Abyssinian Cat Club cannot take any responsibility for the health or living conditions of cats advertised on the Abyssinian Cat Club website.
The Abyssinian Cat Club cannot be responsible for posts which are lifted and posted on other websites.